Women doing life together. Let's grow and stay connected with one another.
We are better together.
UPCOMING FALL GATHERING:
"Let us run with perseverance the race marked out for us!" Hebrews 12:1
Come be inspired as we gather together over food, fellowship, uplifting worship, and lively encouragement. Mom's and daughters, friends new and dear, young and old. This is the season for us as the woman of God to run the race marked out for us!
WATCH THIS SHORT VIDEO FROM ESTER SMITH HERE
Save the Date: October 8 from 9am-12pm.
Cost: $15 includes a full breakfast with hot and cold beverages.
Childcare is available for infants to 5-year-olds. Indicate upon registration.
Registration closes October 3rd.
---
Three ways to make your connection with other Crossing women (Studies are on summer break):
Yvonne Eason's Zoom Tuesday Study
Nancy McKay's In-person Tuesday Bible Study
Wednesday Night Discipleship Group
TUESDAY MORNINGS
The Emphasis -- Experiencing God's nature and character in such a way as to make you long to know Him intimately, to zealously love Him more, and to serve Him more unreservedly. "Our Own God" involves the study of God's fatherly love, and His keen interest in the life of each of us, as He takes us deeper into His heart. Join the experience.
The Zoom link will be provided upon registration. You will receive a confirmation email from PUSHPAY, and it will contain the link.

Location: at The Crossing, Room 307
Start Date: September 27
Time: 10-11:30am
Facilitator: Nancy McKay
Theme: Plethora of topics each week
NOTE: To enter the building for this study. please use the ramp door located on the side of the building. Room 307 is at the end of the hallway.
---
Discipleship Group and Book of Acts
Time
: 7-8:30pm
When
: Wednesday Night
Location:
the Crossing Room 307
Facilitators
: Sangeeta Kamble
We will study the book of Acts in conjunction with looking and applying key points
from our sermon series. Our goal is to know His word and be living out what God is calling us to as we encourage each other in our pursuit of Him.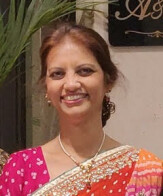 ---