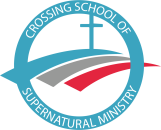 Message from Pastor George
Director of CSSM
The Crossing School of Supernatural Ministry (CSSM) has been birthed in response to the many prophetic words spoken over the Crossing; that we are to be a training center for spiritual leadership. We believe the CSSM ministry is a place where transformational leaders will be raised up to make a great impact in the places God is calling them to serve and work. Our goal through CSSM is not to only provide a greater knowledge base of scripture but for students to be equipped for every good work. Students will receive quality biblical content through our course work, hands-on ministry experience, and empowerment to step into their God-given calling. God has called the Crossing to be an equipping center where leaders of excellence are released to do greater works for the kingdom. CSSM is another way we are being faithful to fulfill this mission.
CSSM is accredited via Missio Global and Summit Bible College (SBC). When you complete our 3-year program you are eligible to apply to SBC to get an Associate's in Theology. You must apply to SBC for the Associates and there is a modest fee for that. You do not need to get an Associate's if you plan higher-level studies at SBC.
You need to take 8 more courses to get a Bachelor's degree. However, if a student already has a bachelor's degree in another discipline then SBC encourages them to go straight into an MA program (typically 10 more courses), or even DMin if the student wishes.
If you are serious in your walk with God and desire wholehearted service to Christ, then prayerfully consider signing up.