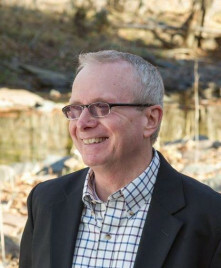 Dr. Scott McDermott
Lead Pastor
Scott has a BA and an MA in Biblical Studies, an MDiv, and an MPh. He also has a PhD in New Testament Studies from Drew University.
He says, "The PhD was well worth it for me."
Scott came to the Crossing in 1993 as senior pastor.
Scott married his high school sweetheart Dawn; they have two beautiful daughters and two grandsons. Although Scott grew up in Royersford PA, he spent a number of years in Oklahoma, Texas, NJ, and Georgia prior to moving back in PA in 1993.
"Hey I met this beautiful young lady when she was 16 and I was 17. We fell in love. What can I say! We married not too long after that".
Favorite activities: Praying for people just to see what God does. "I'm addicted to the goodness of God".
Favorite food: "Anything with cinnamon....are you sure that's not "sinnamon"
Favorite sports team: "I love watching the Phillies, Eagles and Sixers, in that order, which goes to prove that life isn't always easy."
Favorite book: Integrity: The Courage to Face the Demands of Reality. (This is intentionally placed after the previous category if you were wondering.)
Favorite sayings:
"It takes the crucifixion of the heart to minister the resurrection of the Son."
"Hold on to your calling, but let go of your ministry."
"Prayer is the birthplace of the will of God on earth."
And....
"I really enjoy working out at least 5 days a week, learning new ideas, old truths, as long as I am learning something. I can't stand being idle. I have two speeds: full speed ahead and sound asleep."