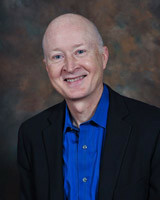 Steve Smith
Executive Pastor
Executive Pastor
Steve was born again at a Baptist church in Normal, IL at the age of 6, at a vacation bible school. His whole life (brief as it had been to that point) changed, and loving Jesus became everything to him. During his school years he assumed he would be a missionary. Steve trained in medicine as a Physician Assistant and somewhere during his early years in clinical practice and subsequent transition to medical education and publishing, he decided there was a massive mission need right here, in the workplace. So that's where he labored, for the kingdom, for the next 25 years. In that time he was blessed to create several "#1s", including co-founding and creating Medscape (the professional side of WebMD).
Currently, Steve has a full-time consulting business to the medical education and publishing industry, and a part-time investment in the Crossing, to help us pursue our calling of waking the Church to life.
Family: Ester (married since 1981) and four daughters; Charity, Ashley, Gentley, Felicity
Education: BS, PA - University of Oklahoma, MDE - University of Maryland University College
Favorite question: If the world will know that we've been with Jesus by our love for one another, where will they see that?