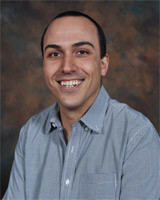 Nick Agazarian
Pastor of Youth, Sports, and Men's Ministry
Nick got saved through the Crossing youth ministry, Oxygen, when he was 16 years old. Since that time, he has pursued the call on his life to be a youth pastor and reach teenage students, share the Gospel with them, and help them grow in their walk with the Lord. Nick received his Bachelor of Arts from Eastern University, majoring in Youth Ministry and minoring in Biblical Studies.
Upon graduating from Eastern in 2009, Nick served for 4 years at Jarrettown UMC in Dresher, PA as the youth pastor. In 2013, God opened up the doors for him to return to The Crossing. He has now been serving in full-time youth ministry for ten years. He is currently pursuing his Master of Divinity at Fuller Theological Seminary.
Nick is happily married to his wife Kristy, and they currently live in Hamilton, NJ. Nick loves golfing, traveling and Chick-fil-A. His favorite scripture verses are John 10:10 and Colossians 1:17.